The Best Countertop Water Ionizers
Looking to modernize your kitchen? You should consider looking into one of the countertop water ionizers on the market today.
In this guide – you'll learn all about:
Countertop Water Ionizers: What You Need to Know
If you look around – you may notice that some companies haven't upgraded the style of their countertop water ionizers to complement newer modern kitchen styles.
Countertop water ionizers have come a long way over the past 40 years, due to the much-needed evolution of the ionizer genre's aesthetics.
Today – you can find countertop machines in white, black, and silver…and you may even be able to find a machine in stainless steel.
Some of the neat benefits of owning a countertop alkaline water machine are:
Location independent machines because they can be taken away with you on vacation or when you move into a new home
Affordable pricing available on many high-quality countertop models
Easily accessible filters for when it's time to swap the filters out
Related | Advantages and Disadvantages of Countertop Water Ionizers

The Best Countertop Water Ionizer in the World
We have tested many of the different countertop water ionizers on the market today…and this is what we determined:
There's only one countertop machine that truly combines the highest level of performance and style to be called the "best in the world" – and that's Tyent.
Tyent ACE-13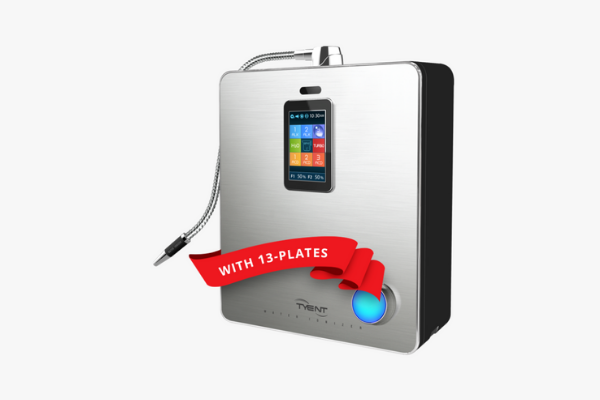 When it comes to countertop water ionizers…the Tyent ACE-13 stands out as our clear-cut choice for our 2019 Editor's Choice Award!
What We Like:
Through our experiments, we discovered that this award-winning Tyent unit comes stacked with 13 Solid/Mesh Hybrid medical-grade titanium plates that have been dipped multiple times in platinum and can produce a large range of pH levels from 2-12, depending on your local source water.
The ACE-13 is built with unmatchable power settings that are fully adjustable with 99 presets per level that comes with 3 alkaline, 3 acidic, 1 neutral, and 1 TURBO preset levels. The TURBO option enables you to make both acidic and alkaline water outputs at the push of a button – which is helpful when you want to make acidic water for various household uses, while you get to enjoy drinking a chilled glass of hydrogen-rich alkaline water at the same time.
The technology used on the capacitive LCD touch screen interface is interactive and smartphone-inspired, making the ACE-13 really simple and seamless to use with one touch.
Thanks to the EXCLUSIVE Xtreme Molecular Hydrogen Boost feature used in the ACE-13 machine – you can make the healthiest, antioxidant-loaded, alkaline hydrogen water in the world.
Other cutting-edge features found in the ACE-13 include:
The Industry's First Motion Proximity Sensor (Hands-Free)
Programmable Automatic Cleaning
Jog Dial Control
All ACE-13 water ionizers come backed by a "no-strings" Lifetime Guarantee that starts with a 75-day trial period that is adored by consumers.
**DRAWBACK**
Even though we feel that Tyent provides the best technical support and customer service in the business, we wish their offices stayed open later because they close at 6:30pm EST.

The Best MLM Water Ionizer
Evontis Elite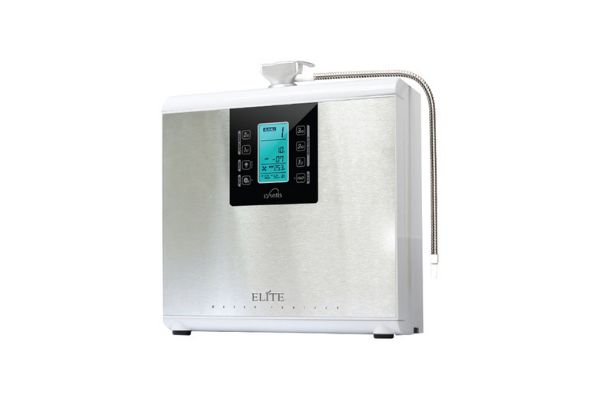 If you dig the multi-level marketing concept (MLM) – then the Evontis Elite is a great option to choose when looking for a machine that can make delicious alkaline water at home.
What We Like:
The Evontis Elite is installed with good features, such as:
9 durable plates that can provide standard pH and -ORP levels of performance.
Automated flow control with adjustable presets.
Dual filters that can remove dangerous contaminants, fine particles, and bacteria from your source water.
An innovative filter chamber design that makes the water ionizer easy to use and maintain.
Evontis even provides its customers with a full lifetime warranty.
**DRAWBACKS**
You can only buy the Evontis Elite in white with a white and silver front panel.
The Elite's advanced settings mode is also not as friendly to users as the day-to-day operation of the machine.
Countertop Water Ionizer (Honorable Mention)
Chanson Revolution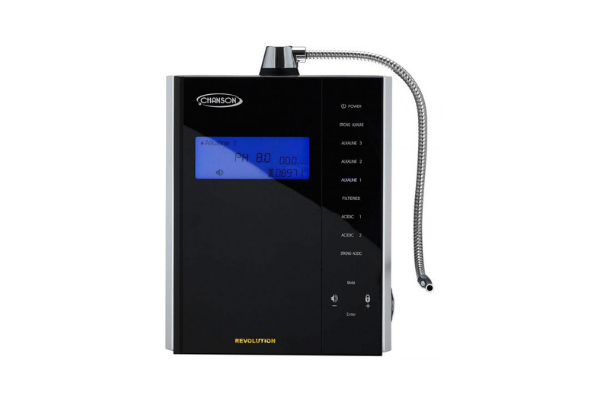 Tyent's ACE-13 undoubtedly stands on top in the countertop machine world, but Chanson's Revolution is worth mentioning as a better than average water ionizer to consider when shopping around.
What We Like
The 9-plate Chanson Revolution has a capable flow rate that can reach decent pH and -ORP levels.
The user-friendly functionality makes the Revolution a satisfactory option for restaurants, schools, gyms, businesses, etc.
**FIRST DRAWBACK**
We're not fond of the Revolution's poor water filtration capabilities – which can be a problem if you have hard water or your source water contains lead, heavy metals, Fluoride, etc. Chanson also urges their customers to do their citric acid wash every 3 months to clean their machine's plates, which we find to be a hassle when compared to self-cleaning countertop machines.
**SECOND DRAWBACK**
Chanson only provides its customers with a limited lifetime warranty that falls short to Tyent's "no-strings" Lifetime Guarantee by ONLY covering parts that have manufacturer's defects. What's worse is that after you've had the Revolution for 5 years – you'll be held accountable for any needed labor costs for the machine.

AVOID These Countertop Water Ionizers AT ALL COSTS!
AVOID: Water Ionizers Manufactured in China
Sure…there are many solid countertop water ionizers on the market right now for you to choose from, but there are some machines that you should absolutely avoid – such as the Air Water Life Aqua Ionizer Deluxe 7.0.
Air Water Life machines are made in China – which we deem as a BIG red flag for the following reasons:
Child labor laws aren't strict in China.
There are zero minimum wage laws in China – which can lead to some Chinese workers to earn very low wages or not even get paid at all.
There's a higher likelihood for Chinese workers to be exposed to poor or dangerous working conditions.
Some Chinese water ionizers have been found to use corrosive plate materials that can jeopardize the safety and quality of your drinking water.
Pro Tip: When shopping around for a quality countertop water ionizer machine – make sure the machine isn't manufactured in China. You should stick to buying water ionizers made in Korea and Japan that are guaranteed to be safe, clean, durable, and perform much better than the Chinese models.
AVOID: Convertible Countertop Water Ionizers
We get it…buying a convertible countertop alkaline water machine may seem like a fantastic idea on the surface because these machines can be used on the countertop or under the counter.
Unfortunately – we must warn you about convertible machines for a few reasons:
Convertible water ionizers are highly problematic because they are essentially countertop models that were built with makeshift connections.
Countertop and under-counter models both have specific uses, so these machines are meant to be built separately to ensure that they function accordingly and to the best of their ability.
Where convertible water ionizers fall short = by trying to be both a countertop and an under-counter machine, they end up screwing with the proper pH level adjustment of your local source water.
Which Countertop Water Ionizer Should I Get?
The right countertop alkaline water machine for your kitchen really comes down to the level of performance and quality that you're looking for in a machine and what shapes, sizes, and colors you prefer.
To start looking around at the various countertop options – we highly recommend that you start off by reading our updated Water Ionizer Buyers Guide.
In this FREE 62-page guide that was carefully crafted and written by two of the most well-respected resources in the alkaline water ionizer industry…you'll get to learn all about:
SAVVY money-saving tips to make your water ionizer shopping experience seamless!
How to interpret the various water ionizer warranties, return policies, and trial periods that companies are offering today!
The quality international certifications that your alkaline water machine MUST HAVE to be considered safe and durable to use!
Why plates are the most important part of a machine and how many your machine needs to make the BEST alkaline water!
5 water ionizer filter tips that you won't find anywhere else!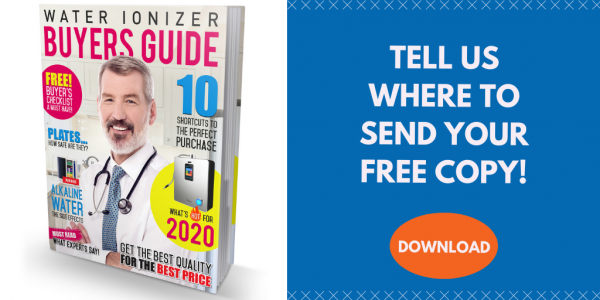 If you would like to compare the latest countertop models for sale – check out our unbiased, but honest water ionizer reviews.
If you simply want the countertop machine with the best warranty, the best quality, and the better performance – then the Tyent ACE-13 is the machine of your dreams.
Cheers to a healthy life that's filled with the health benefits of alkaline water!
Comment below to let us know if there are any countertop water ionizers worth mentioning that we didn't feature in this guide!
P.S. Check out this ultimate guide to the best under-counter water ionizers to determine if you'd prefer to put an under-counter or countertop machine in your home!