The Best Under-Counter Water Ionizers
Minimalistic design has been a growing trend over the past few years. This manner of "getting rid of any excess items and components" has influenced even how new homes are being designed today.
Many people dream of having a clutter-free kitchen that is also fully-equipped. They may want to install a water filter in their kitchen – but are bothered by the looks and size of the filter. This can leave people torn apart between following the kitchen design they want and the best equipment for their kitchen.
The perfect solution to your kitchen design problem is an under-counter water ionizer, and we're going to share with you why you'll love having one. We'll also discuss what you need to watch out for when deciding on which under-counter water ionizer to buy.
Under-counter water ionizers place most of their bulk and components of the machine under the kitchen counter.
Premium under-counter units come built with dual filtration systems that effectively block most of the harmful bacteria and sediments that can be found in your source water.
An under-counter machine will retain the minimalistic design of your kitchen while also providing you with clean, healthy water for various household uses.
By getting an under-counter water ionizer for your home, you'll be able to enjoy many of the health benefits of alkaline water that you can get from using the machine, such as:
After learning about some of the alkaline water benefits above – are you excited to get your very own under-counter water ionizer for your kitchen yet?
We spent some time thoroughly researching and comparing the current under-counter options on the market – and we've determined that these models below are honorable mentions for you to consider right now:

The Best Under-Counter Water Ionizer (2019 Editor's Choice Winner)
We feel that only one under-counter water ionizer on the market deserves to be in the "Best" category.
Our 2019 Editor's Choice Winner is Tyent. Here's why:
Tyent UCE-11 Water Ionizer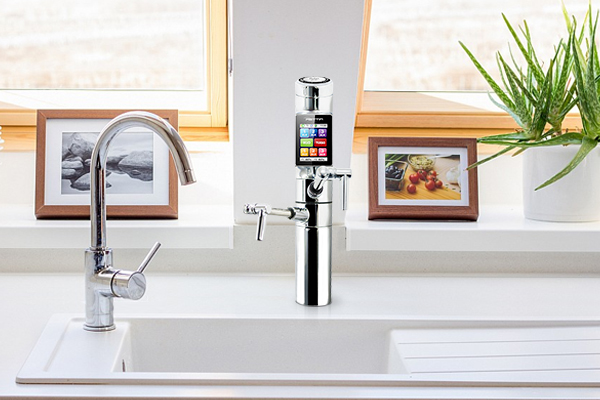 Tyent's UCE-11 is certainly the "best in class" when it comes to under-counter water ionizers.
What We Like:
In our tests, we found that this award-winning machine sports 11 Solid/Mesh Hybrid medical-grade titanium plates that have been dipped multiple times in platinum and can produce a wide range of pH levels from 2-12, depending on your source water.
The UCE-11 is built with unrivaled power settings that are fully adjustable with 99 presets per level, coming in levels of 3 alkaline, 3 acidic, 1 neutral, and 1 TURBO preset. The TURBO level allows you to make both acidic and alkaline water outputs – which comes in handy when you want to make acidic water to clean your house with, while you get to enjoy drinking a refreshing glass of alkaline hydrogen water at the same time.
The gorgeous touch screen interface technology is interactive and smartphone-inspired, making this machine super easy to use with one touch.
The machine's exterior design is glossy and coated in a chrome finish, ensuring that the UCE-11 will look great in any stylish kitchen.
What we are most impressed about is that the Tyent UCE-11 water ionizer makes the healthiest, antioxidant-rich, alkaline hydrogen water in the world, thanks to the machine's Xtreme Molecular Hydrogen Boost technology.
Tyent's 11-plate water ionizers are also backed by a "no-strings" Lifetime Guarantee that starts with a consumer-friendly 75-day trial period.
**DRAWBACK** Even though we feel that Tyent provides the best customer service and technical support in the business, their offices aren't open after 6:30pm EST and we'd prefer it if they were open later.
Under-Counter Water Ionizers (Honorable Mentions)
AlkaViva Delphi H2 Water Ionizer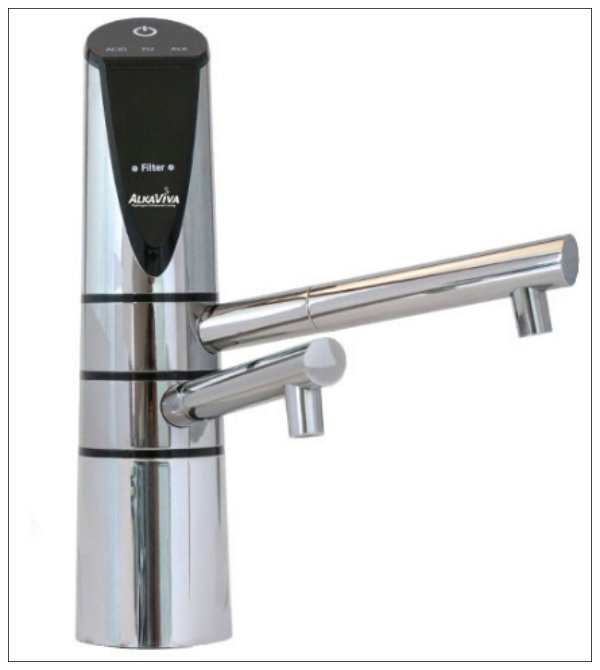 The Delphi H2 water ionizer from AlkaViva tested a bit better than AlkaViva's old Delphi model in our tests, but with only 9 plates it still doesn't fully stack up against the premium water ionizer brands.
What We Like:
The Delphi H2 features 9 titanium/platinum electrode plates and uses dual filtration to produce clean alkaline water.
This machine is also easy to operate with a nice design.
**DRAWBACK** The Delphi H2 only comes with a limited lifetime warranty on machine parts that makes purchasers responsible for all labor costs on the machine after 5 years.
Chanson Miracle M.A.X.™ Royale Water Ionizer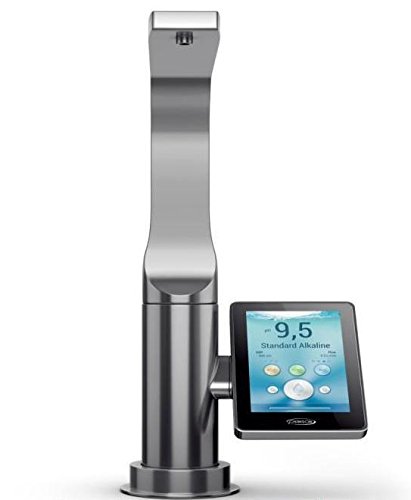 The Chanson Miracle M.A.X.™ Royale is another under-counter water ionizer that we came across in our research that is worth mentioning.
What We Like:
The Miracle M.A.X.™ Royale features 7 titanium plates that can help turn your water into acidic and alkaline water at various pH levels.
The machine's flow valve works adequately enough for you to monitor the flow of your water.
The overall design of the Chanson Miracle M.A.X. Royale looks cool at first glance, but after we installed it, we found that the control panel stuck out way too far, which made it quite awkward.
We found Chanson's customer support team to be fairly easy to reach when we contacted them for more information about their machine.
**WARNING PART 1** We don't like that the Miracle M.A.X.™ Royale offers poor water filtration – especially if you have hard water or your source water contains heavy metals, lead, Fluoride, etc. Chanson recommends that you do their citric acid wash every 3 months to clean the water ionizer plates, which we find to be an inconvenience when compared to other under counter machines that are self-cleaning.
**WARNING PART 2** The machine's stainless-steel faucet head is also meant to be used in addition to your kitchen faucet – but could cause electric shock over time with consistent use. This stainless-steel feature renders the Miracle M.A.X.™ Royale incapable of being CSA-certified, while also missing the UL certification.
Chanson's limited lifetime warranty also falls short to Tyent's "no-strings" Lifetime Guarantee. The limited lifetime warranty on the Miracle M.A.X.™ Royale just covers parts that have manufacturer's defects, and you'll be responsible for labor costs after 5 years.
Which Under-Counter Water Ionizer Should I Get?
When your designer friend approves, you know you found a winner.
The right under-counter water ionizer machine for your kitchen really comes down to preference and the level of performance and quality that you're looking for.
However, we must WARN YOU to BEWARE of convertible under-counter water ionizers.
The main selling point of convertible under-counter models is that they can be used on the countertop (OTC) or under the counter (UTC). However, we find these convertible machines to be extremely problematic.
OTC and UTC models both have specific uses, so they are meant to be built separately to ensure that they function accordingly. Where convertible models fall short is that by trying to be both an OTC and a UTC, they end up messing up the proper pH level adjustment of your source water.
If you simply want the machine with the best performance, the best quality, and the best warranty – then the Tyent UCE-11 is the under-counter water ionizer for you. These traits made the UCE-11 our 2019 Editor's Choice winner.
Want to shop around some more? No sweat! You can check out our water ionizer reviews to compare the latest under-counter models on sale.
This FREE Water Ionizer Buyers Guide can also answer any lingering questions you may have about these machines while providing you with some money-saving tips to make your shopping experience seamless.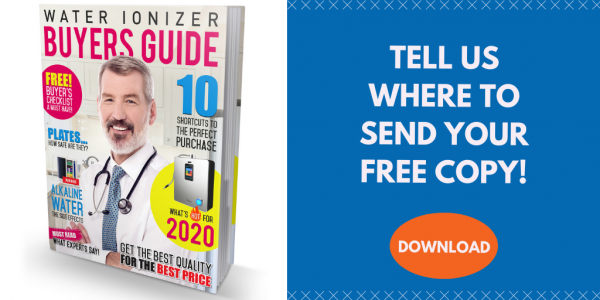 For additional insights into the benefits of alkaline water – read this informative take on how water ionizers are a growing trend from health experts such as Keren Gilbert MS, RD!