Tyent UCE-9000T Under Counter
Pros
Full feature control panel for one-touch-operation and ease of use
9 plates and 375 watts of power make producing the strongest levels of ionized water possible with almost any source water
.01 Micron dual filtration for enhanced removal of organic and inorganic contaminants
"Easy Access" filter area - front panel swings open, filters tip out for quick and easy filter change
Full lifetime warranty covering both parts and labor for as long as you own the unit
Available cleaning cartridge for convenient in-home maintenance
Cons
.01 Micron dual filtration system can mean slower flow rates in some areas
Definitely not a "budget" under-counter water ionizer
Clock option has no "AM/PM" setting - times shown are based on 24-hour clock
Bottom Line
The UCE-9000T just may be the pinnacle of the under-counter water ionizer category.  High-end looks, high-end features, with the best filtration system in the under-counter model category.  With 9 plates and 375 watts of power Tyent's 9000T under-counter model was built to perform with a control panel designed for optimal user convenience.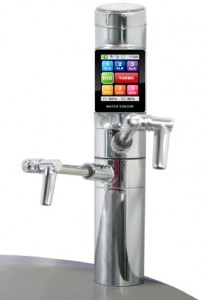 This is the most technologically advanced under-counter water ionizer we've found on the market so far.  The end result is the ultimate in ease of use, user options and ionization power.
The biggest draw backs we find when it comes to under-counter water ionizers is the lack of visibility and available options from the faucet-mounted control panel.   When we took Tyent's UCE-9000T under counter water ionizer for a test drive we were pleasantly surprised by this unit's full-feature control panel.
One Response to "Tyent UCE-9000T Under Counter"
| Specification | Detail |
| --- | --- |
| Number of Plates | 9 |
| Plate Design | Hybrid Mesh |
| Wattage | 375 |
| Power System | SMPS |
| Presets | 3 alkaline, 2 acidic, 1 TURBO alkaline/acidic, 1 neutral |
| Filtration System | .01 Micron Dual Filtration |
| Cleaning Cartridge | Available |
| Advanced Features | Fully adjustable alkaline and acidic presets; Touch-screen control panel with large display; Optional "jog-dial" control for pH level selection and on/off function; Power saving "Eco-Mode" |
| Vendor | Rating | Pricing Promotions |
| --- | --- | --- |
| Authorized Tyent Dealer | | Verify authorized dealer status to ensure validity of warranty |