4 Ways Water Ionizers Can Healthify Your Holiday Cooking
The holiday season is in full swing! Who's looking forward to filling their plates with turkey, ham, mashed potatoes, sweet potatoes, stuffing, cranberry sauce, and other delectable holiday treats?
You may know that the holiday season is when many people neglect their eating habits and overindulge in food, only to hit the gym or skip some meals for the next week or two after the holiday ends to get back on track.
If this sounds like something that you do every holiday season – there are ways to make your holiday eating habits more nutritious and healthier than ever before!
Have you ever heard of a water ionizer?
Water ionizers create alkaline water that contains many health benefits.
But, did you know that these machines can also be used to help you prepare a healthy holiday meal for family and friends?
4 Ways Water Ionizers Can Healthify Your Holiday Cooking
Healthy Holiday Cooking Tip #1: Water Ionizers Can Improve the Taste of Your Food.
For your health, it is important to drink water, but not just any kind of water.
Water carries nutrients to the brain – so it's important that the water you drink is free of bacteria and contaminants that could be hiding out in your local source water.
By using a high-quality water ionizer to make alkaline water…you'll be able to filter out most of the chlorine and other common pollutants found in regular tap water
The result? You'll get to drink refreshing alkaline water that is healthy, clean, and won't make you sick.
Ionized alkaline water can also enhance the natural taste of your food – which will come in handy when you're baking rolls, pies, loaves of bread, and other types of delectable baked goods.
By using alkaline water instead of regular water in your recipes – you can raise the pH of your baked goods while neutralizing the acidity of your dough.
The result? Your rolls, pies, and loaves of bread will taste better and be easier to digest.
How awesome is that? We're sure your friends and family won't mind!
Healthy Holiday Cooking Tip #2: Water Ionizers Can Help Improve Your Mood.
Most of us may know the winter months to be full of shorter days and colder temperatures – which undoubtedly can cause some of us to feel gloomy and sad.
We start to yearn for that warm summertime sun that makes us feel like a kid again or even those cool autumn weekends that feel like magic.
Well…we have some good news for you.
High-quality water ionizers that make hydrogen-rich alkaline water can help improve your mood and may even help reduce your overall stress, according to this recent study.
So, turn that frown upside down.
Become the hit of the holiday party by using ionized hydrogen water to boil the potatoes for your homemade mashed potato recipe or for when you're boiling the green beans for your 5-star rated casserole.
Healthy Holiday Cooking Tip #3: High-Quality Hydrogen Water Ionizers are a Top Source of Essential Alkaline Minerals and Antioxidants.
Picture this: It's the morning after the holiday party.
You awake to the loud-pitched ringing of your cell phone's alarm clock going off for the past 5 minutes. You finally decide to turn off your alarm clock and roll out of bed.
You stand up and start walking around your bedroom. You feel dizzy – so you immediately lay back down.
You're going to need something effective at helping you relieve that throbbing hangover.
So, why don't you put down that bottle of Pedialyte or trendy hangover relief shot you bought from your local convenience store, and reach for a chilled glass of ionized alkaline hydrogen water instead?
By turning to hydrogen water created with premium water ionizers as a solution to your hangover woes – you can help your body balance out any excessive acidity in the stomach that's left over from the alcohol with antioxidants and electrolytes found in the water.
Ionized hydrogen water ALSO provides better hydration AND tastes better than regular or bottled water.
The molecular hydrogen bubbles in the water are small enough to directly penetrate your cells with antioxidants that your body needs to thrive.
In fact – ionized hydrogen water contains a high concentration of alkaline minerals that are vital to human health, such as calcium, magnesium, zinc, and potassium.
These minerals support your body's immune system – and are essential to the health of your bones, teeth. and hair.
Pro Tip: To help prevent that dreaded hangover from happening in the first place…drink a glass of ionized hydrogen water while you're drinking alcohol!
Healthy Holiday Cooking Tip #4: Water Ionizers Can Help Balance Your Body's pH Levels.
Do you often feel tired or lethargic?
Do you frequently suffer from colds, infections, or joint pains?
If so, then your body pH may be too acidic! When your body pH is too low – you're likely to feel tired, shortness of breath, and maybe even an upset stomach.
Want a shortcut to help you balance your body's pH levels? Turn to alkaline water from water ionizers.
Drinking ionized alkaline water can help neutralize your body's acidity levels, balancing the pH levels in your body while also improving your overall quality of life and well-being at the same time.
We cannot stress enough how important it is to have a balanced body pH for good health…so pour everyone at your home a glass of alkaline water.
There's Nothing Like a Healthy Home for the Holidays!
Our healthy holiday cooking tips will enhance any food that you prepare, while also helping to keep your guests healthy, happy, and coming back for more.
Are you ready to spread some healthy holiday cheer with alkaline water benefits from a water ionizer machine?
We thought you might be – so let us help make this an easy decision for you with these helpful resources below:
You can also save time and energy on the decision-making process by telling us where to send your FREE exclusive copy of our Water Ionizer Buyer's Guide.
After reading through this game-changing guide, you'll know how to get the best quality water ionizer at the best price by leveraging our proven 10 shortcuts to the perfect purchase.
It doesn't get any better than this – so, act now by clicking below!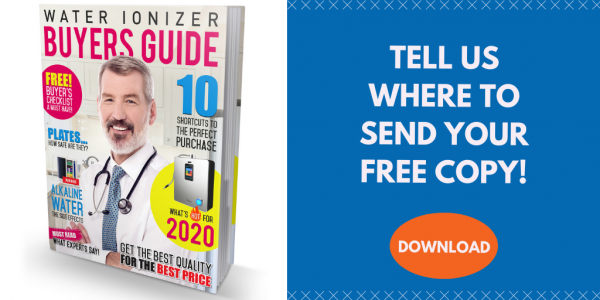 We'd like to wrap this up with a quote from W.C. Jones that is sure to uplift your holiday spirits:
"The joy of brightening other lives, bearing each other's burdens, easing others' loads and supplanting empty hearts and lives with generous gifts becomes for us the magic of the holidays."
Do you have any healthy holiday cooking tips that you'd like to share with the world?
Or, maybe you have your own great holiday quote or song that you'd love to share.
We'd love to hear about them – so comment below!