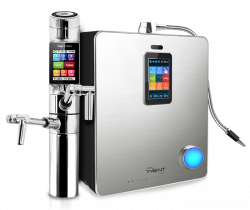 We have exciting news for the New Year! After testing the newest ionizers on the market, we are pleased to announce our 2019 Editor's Choice Winners.
The 2019 Editor's Choice Award goes to the countertop ACE-13 water ionizer and the under-the-counter UCE-11 water ionizer. They are both from Tyent USA! These machines beat every ionizer in their class. The 5 main reasons that Tyent is our top pick are…
Higher pH levels
Stronger -ORP levels
Increased flow rate
Electrolysis chamber redesign
Increased power
---
We couldn't wait for testing day! It's so exciting to get to try out all of the water ionizer machines. When we finally had all the newest water ionizer machines set up and ready to go, it was time to get down to business. The day finally arrived when we went into our lab and performed grueling tests on all the latest models from water ionizer companies including Kangen, Jupiter, Tyent USA, Chanson, and Air Water Life. Most of the machines showed some improvements, but our results showed that these improvements were fairly insignificant at around 0 to 4%. The machines that crushed the competition were the ACE-13 and UCE-11 water ionizers from Tyent USA.
The Tyent ACE-13 and UCE-11 are the only residential water ionizers to offer something we have never seen before… a one-of-a-kind winning combination. A power increase coupled with the redesign of the electrolysis chamber gave us the best pH and -ORP levels we have ever tested. With these two factors combined, Tyent has found the perfect formula.
These machines are truly in a class of their own with regard to power. The TURBO function boosts power up to 10 amps, which makes them the most powerful residential water ionizers available on the market today. But don't worry about these machines using too much power. They truly are eco-friendly machines, and the TURBO boost function only kicks on when you tell it to.
The redesign of the electrolysis chamber is another critical feature. The ACE-13 and UCE-11 have platinum-coated, titanium solid/mesh hybrid plates, and the chambers were redesigned to increase flow through the main output while reducing the amount of wasted water. This results in up to 40% more flow through the main spout. We noticed the increased flow rate as soon as we turned the machines on.
The ACE-13 uses an upgraded 7th Generation SMPS Plus power supply, while the 10-amp SMPS power supply of the UCE-11 ionizer offers a 20% higher amperage than their 9-plate predecessor and an even higher percentage when compared to any of the other 9-plate water ionizer brands. This results in up to a 25% increase in both pH and -ORP performance over the 9-plate units.
As far as aesthetics, both the ACE-13 and UCE-11 feature a really cool smartphone-inspired touchscreen design. The ACE-13 has a 360º water outlet dispenser spout which makes it easy to position your machine on either side of your sink. The ACE-13 and UCE-11 also feature easy programming and adjustability and voice alerts.
---
IMPRESSIVE RESULTS MADE IT
OUR WINNER!
Here is a quick snapshot of the overall improvements we found in Tyent's ACE-13 and UCE-11 Water Ionizers:
Xtreme Molecular Hydrogen Boost technology
20% stronger TURBO acidic levels
20% stronger -ORP levels
20% higher pH levels
40% increased flow rate
40% less wasted water
75-day trial
There are a few tried and true features from Tyent worth mentioning too:
Eco-friendly
Lifetime warranty covering both parts and labor
Excellent filtration with a .01 micron dual filtration system
All the other machines we tested had only a 0% to 4% increase in the above categories. We have never seen water ionizers with such a large number of significant improvements.
We feel that the ACE-11 from Tyent is an excellent countertop machine. However, the new ACE-13 water ionizer has completely blown us away with innovative features, such as the industry's first Motion Proximity Sensor Function and a Quantity Selection Function.
The UCE-11 continues to lead the pack as the best under-the-counter water ionizer machine.
Final Analysis: Tyent's ACE-13 and UCE-11 water ionizers stand alone as the most innovative and effective water ionizers we have ever seen. We are very impressed with the quality, design, and function of these machines. The 75-day trial, lifetime warranty and A+ BBB rating are also great features of this company as a whole. Tyent's 11 and 13 plate machines will likely be the ones to beat for many years to come.