Pesticides and the "Dirty Dozen"
You know that you should eat your fruit and vegetables.
You also know that organic fruits and vegetables are free from harmful pesticides and insecticides.
The following is a list of foods that you should always try to buy organic because they contain the highest amount of pesticides.  They are typically referred to as the organic food "Dirty Dozen."
APPLES
CELERY
BELL PEPPERS
PEACHES
STRAWBERRIES
NECTARINES
GRAPES
SPINACH
LETTUCE
CUCUMBERS
BLUEBERRIES
POTATOES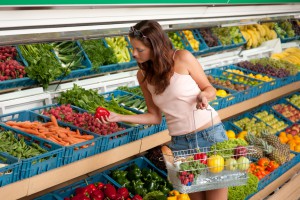 We all want to keep ourselves and our family safe from the dangers of insecticides and pesticides, but buying organic produce isn't always cheap.  In these difficult economic times, we try to find ways to save money, but should we sacrifice our family's health to save a couple of bucks?
Did you know that the water from your water ionizer is effective in washing away pesticides from fruit and vegetables?  Soaking your produce in strong alkaline water will help to remove oily pesticides and residue from them.  Strong alkaline water actually emulsifies oil, leaving your fruit and vegetables safe and tasting the way Mother Nature intended!  It's a good idea to soak both organic and nonorganic produce in strong alkaline water to remove dirt and chemicals.
Remember to check back often for more tips on using your water ionizer!